I've recently had the opportunity to review a couple of great kids products.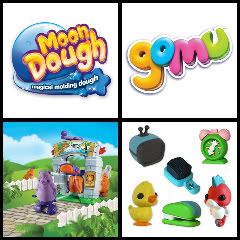 The first is
Moon Dough Magic Zoo
. You have probably already heard of Moon Dough, but they added some really cool features to this product that make it more fun!
The Moon Dough Magic Zoo has little holder thingy (that's a technical term
) that you put the moon dough in to make the desired animal shape. After you put the moon dough in it, you put it on the wind up base, then into the the zoo. You wind the handle at the top of the zoo and out pops your animal and it walks across the floor or table (whatever surface you are playing on)!!! The set comes with penguin, gorilla, bear and fence molds.
The box says it is for ages 3 and up. That is accurate, however… my 3 year old had a hard time doing it all… without making a huge mess! She was able to do it… just not in a way that made mommy happy. And, even my 9 year old thought it was cool when the animal came waddling out of the cage!
Just a few pics of my kiddos playing with their Moon Dough!
The other product we got to check out is called
Gomu
. They are collectable erasers. For my kids, they are more a collectable than an eraser… think silly bands… did your kids get crazy with silly bands like mine did (or maybe your kids are still into them?… yeah, mine too
)?
They took a little while figuring out who would get which Gomu and then we put them in little baggies with their name on them so that there would be no arguing about whose are whose! They like to take their Gomu with them and play with them in the van.
Besides being fun to collect all the different varieties of Gomu (there are over 100 different erasers to collect!), one of the most fun parts of Gomu is that each one has 3 or more pieces that you can take apart and put back together again over and over, just like you would a puzzle! Of course, that feature is a winner for the kiddos!
Who wants a Moon Dough Magic Zoo and a pack of Gomu for their kids?
Of course you all do! Well, I'm giving you one of my sets of each!
Wanna know how to win?? Wanna? … Wanna? It's easy, just fill out the rafflecopter form below and you are entered to win! The first entry listed is the only mandatory entry. All the rest are just extra… the more you do, the more entries you have! Good luck!
*Disclaimer: Just in case it wasn't obvious to the wonderful FTC people, yes, I was given product to facilitate this review. The company did not obligate me to write a positive review. All thoughts are my own. The company did not send me product to give away to readers, that decision was my own, just since I love my readers.