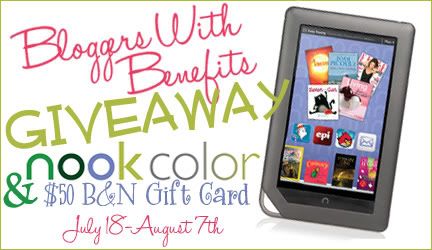 Alright, I've teamed up with some awesome bloggy girls to bring you something we've been working on for a while now. Ready for it? Oh, you looked at the picture and know what it is already? No?
Okay... We're giving away a
Nook Color
!
AND... as if the Nook Color weren't enough... we are also throwing in a
$50 Barnes & Noble Gift Card
so you can get started filling up your brand new Nook with books, magazines, newspapers, interactive kids books, apps, games, music... you get the idea. :)
I'm so excited, I want to win it! I know, you're saying to yourself, "just who are these awesome bloggers that want to give me a Nook and a Gift Card so I can go visit them and follow them right away?", right?
Well, here they are:
Crunchy VT Mommy
Mama B
Little BGCG
Baby Dickey
Southern Yankee Mix
The TaterTwins
Pickles & Paisleys
Banana Hammocks & Tutus
Life with Levi
Some Call It Natural
Soleil Selene
Baby Gators Den
I Do Thee Wed Sara
Skippin' Rope
The Baby Birthing Mama
We've made entering this giveaway
super
easy. We're using a new giveaway widget called Rafflecopter (the same one I used in my
Crunchy N Yummy giveaway
and the
Rafflecopter giveaway
still going on). All you have to do to enter is go down the list and make sure you've liked all of the blogs on Facebook! And the Rafflecopter widget makes it so easy! All you do is click "Like" after you click, "Click here", then click on "I did this!" and fill out your name and email address. Done! You only enter the giveaway once from the blog you are at right now. No commenting necessary, unless you just feel like giving some comment love, then feel free, but it won't count as an entry into the giveaway. There are two bonus entries, share this giveaway on Twitter or Facebook and leave the link and sign up for the Bloggers with Benefits newsletter. We have more giveaway goodness up our sleeves so you'll want to be sure to get the newsletter so you know when we're ready for the next big event!
Open to the USA. Giveaway will end on August 7, 2011 at 11:59 PM EST. The winner will be selected by Random.org through Rafflecopter and will have 48 hours to respond before a new winner will be selected. If a way to contact the winner is not provided they will automatically forfeit the prize and a new winner will be selected.


Disclosure: This prize is brought to you solely by the bloggers sponsoring the event. All thoughts and opinions are our own, including estimations of our awesomeness.